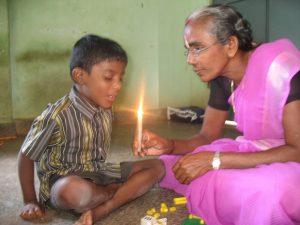 Located in Palavoor just over an 5 minutes drive from Anjugramam and 10 minutes from Kavalkinaru Junction, Rucode India special school is the only preparatory special school in an around Palavoor village. It surrounded by kudankulam ,Vadakankulam, Kavalkinaru and Chidambarapuram.
RUCODE INDIA special school ensures that a young person's life
becomes worthwhile, however mild or profound may be their disability. Our wraparound care and teaching approach enhances our children's lives, making them as independent as could be and having a positive impact on the whole family.
Our classrooms -are well resourced with join together and planned out the different requirements of the children such us learning needs and communication requirements.
The parents and the children taken out for exposure visits periodically.
We are working with children of :
Autism
Cerebral Palsy
Intellectual Disability
Multiple Disabilities
We provide all services under one roof for special children with school and day care facility
Counseling
Speech Therapy
Physiotherapy
Early stimulation therapy
Dance Therapy
Expressive Arts Therapy
Inclusive School Occupational Therapy
Computer Literacy