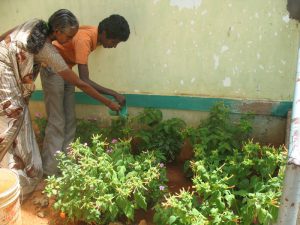 Due to Global Warming climate change took place in all the areas of life. In order to mitigate the efforts of climate change children were encouraged to planned saplings in their respective villages. Special awareness classes were conducted in the community and schools with the support of Disney Minnie Grant, U.S.A.
Climate Change Adaptation is one of the new programmes that RUCODE has undertook in the coastal areas of 32 villages in Tirunelveli and 31 villages in Kanyakumari Districts.
By this programme we intend to make the target population adapt themselves to the rising situations due to climate change. There will be Early Warning Centres established in the disasters prone villages.